An Ecosystem Based Conservation Plan for Hornby Island – a plan for water sustainability.
Ecosystem-based conservation planning (EBCP) seeks to understand the ecology of an area, and then to define how various human activities and economies can fit within the limits of the ecosystem. Water is considered to be the essential connecting element in the ecosystem.
EBCP puts the environment before the economy. It begins with the premise that ecosystem-based values will define and guide human activities (versus human-centred values). This becomes increasingly important with the effects of climate change.
Hornby Water Stewardship has been looking into EBCP since 2016. In August of 2017, it sought and was granted funding for a six-month initial EBCP for Hornby Island.
The initial six-month project will include a review of previous research and applicable regulation, a visit to Hornby for landscape familiarization, and a presentation and report to the community at a public meeting by the Lead Consultant. Subsequent projects would be tied to specific recommendations accepted by the community.
The EBCP for Hornby will build out from the Hornby Island Water Plan (a collaboration of Water Stewardship Project of Heron Rocks Friendship Society Centre and Hornby Island Community Economic Enhancement Corporation (HICEEC). The Water Plan's overall goal is "to strive to ensure the quantity and quality of water resources for Hornby Island, both in the short and long-term", "water is perceived as a major potential issue with growth – planned and un-planned".
A Hornby Steering Committee will lead the project. Consultants from the Silva Forest Foundation will conduct the research. The project will have additional input from representatives of The Pacific Water Institute at Simon Fraser University and the Simon Fraser University School of Resource and Environment Management.
The goal of a comprehensive EBCP, if it is undertaken, would be to create a consolidated plan based on previous studies and a current ecosystem 'audit'. It would provide recommendations for restoration and ecologically appropriate land uses and conservation activities and activities to mitigate the effects of climate change. Key stakeholders could employ the results in environmental, social and economic planning.
Consistent with the Provincial Water Sustainability Act, our Community committee can provide local governance and our local plan can form the basis for a Water Sustainability Plan for Hornby Island.
Supporters who have contributed funding and/or endorsement for the project to date include the Hornby Community Fund, HICEEC, HIRRA, Conservancy Hornby Island, Local Islands Trust Trustee Tony Law, and Heron Rocks Friendship Centre Society.
A review of the summer "tourist season" of 2017 at the September Hornby Island Residents and Ratepayers' Association (HIRRA) highlights the need for an EBCP for Hornby Island.
Speakers agreed that it had been an extremely busy summer. At the same time that there was appreciation for the healthy outdoor activities being enjoyed by many and the economic spin-off benefits to friends and family, there were concerns expressed as to what the island environment can bear. Stress on groundwater was mentioned, as was stress on trails and local services.
Determination was expressed to work together to prevent degradation of the environment. The need was expressed for solid information to guide this work.
For up-dates on this project, water resources and information, see hornbywater.org.
jan18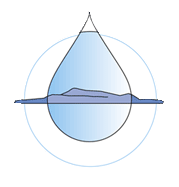 A lot is happening!
The De Pape Ditch Project is located just above where De Pape meets Porpoise, below Sandpiper Subdivision. The project was begun when Water Stewardship folks, in 2002, during routine water tests, found that the water was contaminated. As an experiment, they created a series of 6 weirs to slow down and aerate the water, and planted the ditch with plants known for their water purification properties. Testing showed an E.coli reduction of 30% over the length of the ditch. This project demonstrates how runoff water, mainly contaminated by human activity, can be improved before it returns to the ocean.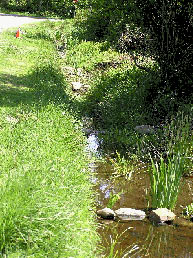 More about Water Plan activities including Hornby-specific tips for water conservation are available at www.hornbywater.org. Our website undergoing a re-make and we will soon announce a new and improved site with lots of useful Hornby-specific information.
The Hornby Co-op has recently stopped selling individual serving plastic water bottles, and is donating a dollar from each sale of metal water mugs to our Water Stewardship activities.
We continue work on our Hornby Water Sustainability Plan process, thanks to community support. This process will follow an Ecosystem Based Conservation Planning (EBCP) methodology. We are currently pulling together a Community Committee to guide the work. We have the assistance of an Advisory Committee comprised of folks from Simon Fraser University, as well as a Consultant from the Silva Forest Foundation to look at the current condition of the island and make some recommendations as to what we might do to ensure water sustainability and prepare for climate change.
Water Stewardship Project member and geologist and teacher at Mount Royal University in Calgary, Dr. John Cox will be spending part of his sabbatical next year on Hornby. He will conduct water-related geological research.
Submitted by Ellen Leslie & Mary Mackenzie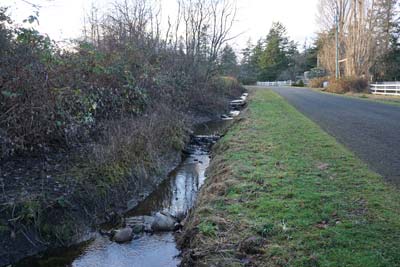 Hornby Island Water Plan and Discussion Paper