Water is a precious resource with shared responsibility
Projects
Current Activities:
2016
In 2015 John Cox joined the Water Stewarship. In 2016 Hornby Island Community Economic Enhancement Corporation (HICEEC) identified access to safe and adequate water as an important issue as population and development increases on Hornby. As a result, Water Stewardship members Ellen Leslie and John Cox are currently working on a joint committee with HICEEC to develop a Hornby Island Water Conservation and Protection Plan. This plan will include geological research , guidelines and possible incentives for the wise use of current water resources, and ind investigation of potential infrastructure solutions.
The Water Stewardship booth at the Hornby Island Fall Fair in September proved very successful.We were able to talk to many islanders and visitors about water and the work we do.
In late September, Ellen Leslie attended Watersheds 2016 workshop on Building Capacity for Collaboration and Watershed Governance in British Columbia. Much was learned, many connections made and numerous new ideas developed.
2015
Cycle Signs Project.
There are now two beautiful signs installed – one a the DePape ditch and one a the entrance to the Co-Op parking lot and Gas Bar.
Updated laminated posters were made and sold at the Saturday market. More are available on request.
Mary and Ellen attended the local Islands Trust meeting and presented input to the proposed by-law changes regarding water.
A letter was sent to the Minister of Environment with comments on the proposed groundwater policies
Work is being carried on in summarizing the Water Stewardship activities since its inception and arranging to have it stored in the new archives building.
2014
Ellen Leslie attended the Watershed 2014 conference (A Polis Project – http://watersheds2014.ca/about) in Duncan in January, where she gave a short presentation of the work WS does on Hornby. She also gave a longer presentation at the Literary lunch at New Horizons, and plans to do another one at Heron Rocks ,'Under the Maple" program in summer.
A Septic System Workshop may be planned for late spring 2014, if organizers can be found. Garth Millan, and other septic specialists, still to be determined, would be giving presentations.
A WellSmart Workshop, presented by Catherine Black, and some of local experts, may be repeated in Summer to allow off-island home owners to attend. The one held in October of 2013 was well attended, mostly by local home owners.
Preparations for a design for the Fire Department's water tank at the De Pape Ditch Project are taking place in conjunction with the Arts Council and the School. The WS will be contributing to the cost of the painting.
To assist Elder Housing increase its water storage capacity WS will contribute financial support in obtaining another Water Reservoir Tank. The one tank already donated by the WS has proved to be insufficient.
Comments to the new Water Sustainability Act will be submitted before the April 9, 2014 deadline.

2016 Water Stewardship Members:
Mary MacKenzie Ellen Leslie
John Cox Judith Lawrence
Ilze Raudzins Muggs Sigurgeirson
John and Cathy Howard Rudy Rogalsky
Any one interested in participating in the Water Stewardship activities, please contact Ellen Leslie 250 335 3301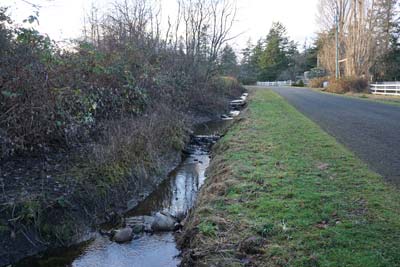 Clean Choices For Household Products
Household Cleaners in our Islands' Waters
Many commercial household cleaning products are not groundwater or septic friendly because they contain toxins including chlorine, ammonia, lye, hydrochloric and sulfuric acids, xylene, formaldehyde, phenol, ethanol, and cresol.
Protect yourself, your family, our groundwater and the environment by putting together a safe cleaning kit with inexpensive, effective ingredients. The building blocks for this kit are baking soda, liquid soap, steel wool, vegetable oil, borax, washing soda, white vinegar, lemon juice, cream of tartar, and salt.
ALL PURPOSE CLEANER Mix 125 ml pure soap with 4 litres hot water. Add 60 ml strained lemon juice to cut grease ordissolve 60 ml baking soda in 1 litre hot water. Mix equal parts of vinegar and salt for scouring.
DISHES Add pure soap flakes to hot water, add vinegar for tough grease.
LAUNDRY Borax can replace detergent -125 ml per average laundry load. To enhance, add 80 ml washing soda to the water as the machine is filling. Put clothes in, add 375 ml of pure soap flakes. For hard water add 60 ml of vinegar during the first rinse. This is also a fabric softener.
When switching from detergent to pure soap, wash items twice with 80 ml of washing soda only to remove residues and reduce yellowing.
Use a hydrogen peroxide bleach or 125 ml of washing soda in a load of laundry. And you can add 125 ml of borax for additional cleaning power.
BATHROOM CLEANERS AND DISINFECTANTS Clean surfaces regularly with ½ c. borax in approx. 4 litres hot water or pure soap in hot water. For TUB AND TILE, use a firm bristled brush with plain baking soda or a mixture of 125 ml pure soap in 4 litres hot water with baking soda added. For MOLD AND MILDEW, rub tiles and grout with a cloth moistened with vinegar, then scrub with an old tooth or nail brush.
TOILET BOWL CLEANER Use borax or mix borax and lemon juice and let stand, then scrub. For regular cleaning, use pure soap and water. For stubborn calcium stains, put 1000 mg of vitamin C in the bowl, leave overnight, and scrub.
DRAIN CLEANER Use a plunger or metal snake and/or pour 125 ml baking soda down drain, followed by 125 ml vinegar. Cover the drain and overflow vent while it fizzes, then follow with hot water.
GLASS CLEANER Mix 65 ml vinegar or 15 ml lemon juice in a 1 litre spray bottle filled with warm water. Polish with newspaper.
OVEN CLEANER Wipe grease and spills asap, or line the oven with aluminum foil. If you need to clean, sprinkle baking soda on moist surface and scrub with steel wool. Or add baking soda to 250 ml of pure soap, 120 ml of lemon juice and 4 liters of hot water – wear gloves while scrubbing.
SCOURING CLEANER Use borax powder or baking soda or a paste made with pure soap and baking soda.
METAL POLISH For copper mix lemon juice or hot vinegar with a little salt and apply with a rag. For chrome, white flour or rubbing alcohol on a dry rag; for brass, equal parts of salt and flour with a little vinegar; for silver a paste of baking soda and water.
FURNITURE POLISH Dissolve 5 ml lemon oil in 250 ml vegetable oil and apply with a clean, dry cloth. Use almond oil, olive oil, or a combination of olive oil and lemon juice for unvarnished furniture.
FLOOR POLISH Melt 30 ml of paraffin wax in a double boiler, add 1 litre of mineral oil and a few drops of lemon oil. Apply with a cloth, allow to dry and polish.
Watch what you're dumping down the drain
It turns out that micro-fibers (e.g., from fleecies) is the single biggest threat from plastics on marine life.
*Don't flush unused, outdated, unwanted medications down sinks or toilets. You can return them to the Health Clinic or any Pharmacy where they will be disposed of safely. This ensures that children and pets cannot get a hold of them. It also keeps them out of the groundwater.
Links
Watershed Sentinel: http://www.watershedsentinel.ca/
Heron Rocks Friendship Centre: http://heronrocks.ca/
POLIS, Water Sustainability Project http://poliswaterproject.org/
Provincial Groundwater Information http://www2.gov.bc.ca/gov/content/environment/air-landwater/ water/groundwater-wells
Regional District of Nanaimo Brochures and Guides http://www.rdn.bc.ca/cms.asp?wpID=2155
Regional District of Nanaimo Rainwater Harvesting Best Practices Guidebook http://rdn.bc.ca/events/attachments/evID6235evattID1344.pdf