Sandpiper Area Project
This project demonstrates a low technology method for reducing high contamination levels in runoff water in a ditch. This  De Pape Road ditch receives most of this water from a ditch along Jerow Road with the Reiken road ditch contributing some water during periods of high flow.
In 2004, the project work was done over about a 100 metre length of the De Pape Road ditch. This included ditch clearing and bed improvements, the construction of six low weirs and the planting of water plants known to reduce contamination. The end result was a bioswale which significantly reduced fecal coliform levels. Measurements of contamination levels upstream and downstream of the works involved the taking and laboratory analysis of 28 sample sets during the winters and their shoulder periods of 2004 and 2004/05. up to March 31st. The indicated effectiveness was an average reduction in coliform levels of 28 percent. This percentage could well increase with higher levels of contamination and as the plants mature.
The purpose of this project was not limited to water quality improvement in this ditch alone. It was intended that this undertaking and the associated experience in implementing it would serve as a demonstration project to inspire and assist others to implement similar projects directed towards improving surface water quality and, in some instances, significantly contributing to groundwater recharge.
There is an information sign at the project site. Anyone interested in implementing a project of this type in another ditch or watercourse should contact a Water Stewardship member who will arrange for someone to provide needed information and advice.
October 2013
A work party consisting of 4 members cleared the overgrown ditch of grasses and brambles, and marked the weirs in preparation for machine digging above the weirs.
November 2013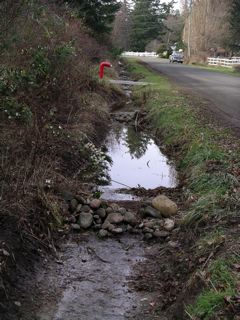 The photo shows the result after the backhoe cleared the blackberries along the edge, and dug the pools behind the weirs
November 2015
A sign was put up at the end of the ditch at Porpoise Cres.  showing the water cycle. The background art was done by Janet Morgan, Another similar sign was placed at the gas bar road side across from the Co-Op.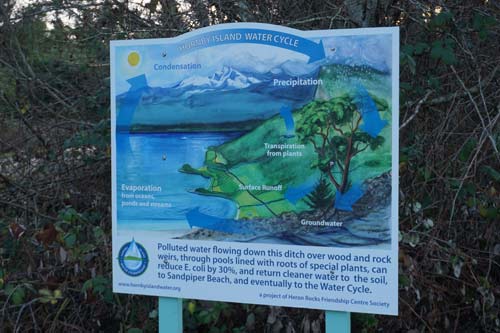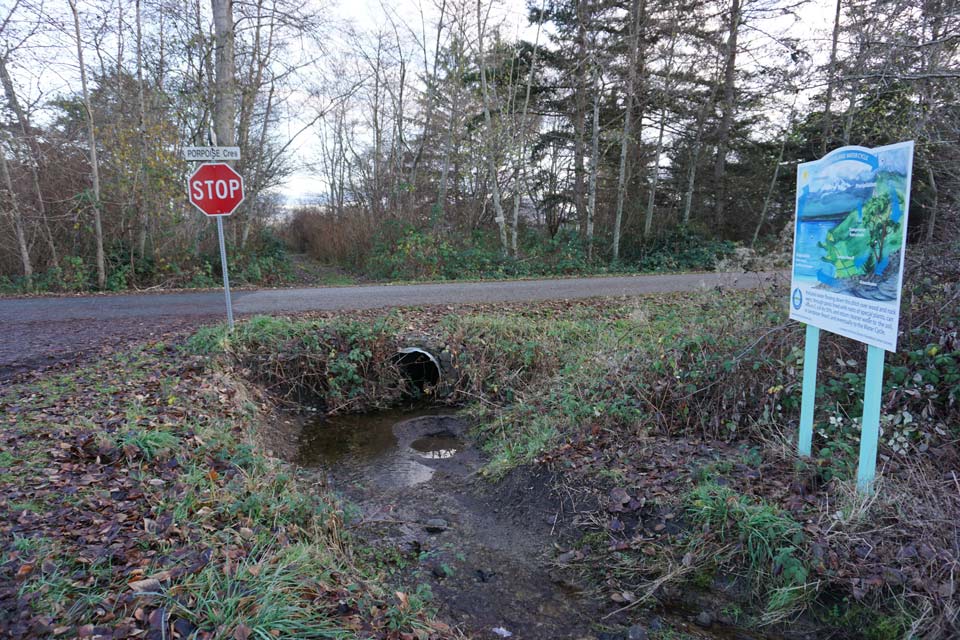 Water Quality Testing
Hornby Water Stewardship Project has carried out over 800 water tests to determine the quality of water around the island, in ditches, streams, wells and ocean.
You can test your water by picking up a sample bottle plus instructions from the black  Water Stewardship box above the  Free Post at the Co-Op.
Instructions for Taking Well Water Samples for Testing for Total and Fecal Coliform
1. Take your sample only if you can get it to Maxxam Analytics, Courtenay, the same day. Timing is important.
2. On the bottle, with a waterproof pen, fill in your name where it says "Company" and property address where it says "Sample ID"; fill in the date and include time.
3. Remove any filter or nozzle from tap.
4. Run water for 2 minutes (catch in pails or basins for other uses) to clear lines of standing water.
5. Unscrew sterile bottle top without touching inside. Take care not to touch tap with bottle lip to avoid contamination. Fill bottle and screw cap firmly.
6. Take your sample to Maxxam Analytics, 2755B Moray Ave, Courtenay, tel: 250 338 7768 for queries.
7. Advise the Lab that you are doing this independently of Water Stewardship. They will ask for you contact e-mail or phone number so results go directly to you.
Note:  LARGER BOTTLES FOR MORE COMPLEX CHEMICAL ANALYSES OF YOUR WELL WATER  PLEASE CONTACT MAXXAM ANALYTICS.